We don't make mistakes in scrapbooking; we only make "oops". All mistakes are fixable with a little creative thinking. I have made my share of "oops" and would like to share some creative cover-ups with you.
You can cover most "oops" with stickers, die cuts (pre-cut shapes) or pre-cut clipart. However if you make a spelling error, this is the hardest error to cover up. One solution is to draw and color over the error with acid free pens into an appropriate theme shape (such as a butterfly, ladybug, flower etc.). Another quick fix is to glue a coordinated colored shape over the error and rewrite your journaling on the new paper section. The third option you have is to either re-mount your photo over the mistake or re-do the page. This is one of the reasons that I enjoy computer paper scrapping. If you make a mistake, you just print a duplicate page and begin again.
Of course, if you do it all on the computer and save your work... all that is needed is to fix the error and print the whole page.
Scrapbook Stickers Misc. Cover-Ups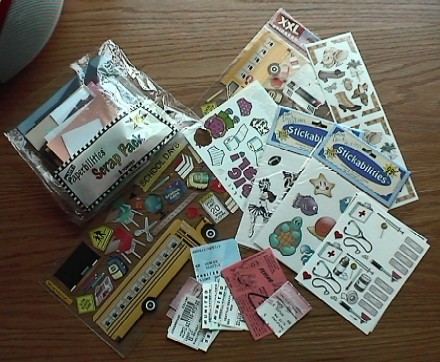 Another common error is to accidentally drop a glue backed photo on top of your page. There are a couple of remedies for this one. One fix is to buy repositionable glue at your local hobby supply store to help prevent this from happening. You can also begin by gluing one side down at a time or using photo sticker squares. These handy little inexpensive 2-sided stickers are my favorite find. You can even remove them (carefully) if you make an error. With really careful lifting, I have found that you can usually remove the square from your paper without damage. Then just remove from the back of the photo, reattach new squares and reposition your photo again. This must be done rather soon after you set the picture down though or it sets and tends to tear your paper.
Scrapbook Pens, Photo Squares, etc...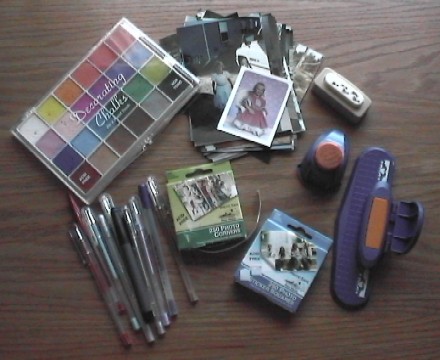 Many mistakes through history have turned out to be wonderful happenings. Your error may inspire you to create a beautiful and lasting page for your family. I have had several errors turn to my advantage over the years. It's not HOW you scrap that's important, it is just THAT you scrap for future generations that matters. You can create a lasting memorial of those who have gone before with just a few photos, papers, pens and stickers.
And of course with a little inspiration from PrincessCrafts.com