Gift Ideas
How would you like to pay for 1 subscription and get access to 3 different sites? Check out how this is possible by clicking the link below...
Fine Crafts & Imports - World Arts & Crafts
Contemporary Oil Paintings, tin and Talavera Mexican mirrors, hammered and handmade copper vases, handpainted Talavera pottery, ceramic planters, ceramic handpainted tile, sun faces, hammered copper plates and a wide collection of home decor and garden accesories.
Mini Desk Frame Sets make wonderful gifts. After buying the desk sets, just scrap away. These are wonderful for miniature family trees or for photos of your kids at work. We have 30 sets of Mini Scrap Pages (4x6" in size) as part of our annual members bonuses. They can download the 5 files (6 pages of 2 frames on each page) and start scrapping. They are available in PDF format for hand scrapping or GIF format (with clear photo frames) for computer scrapping. Click HERE for more. Just added... 2004 printable scrapbook page calendar.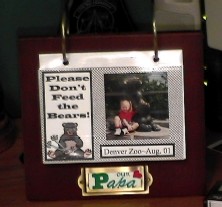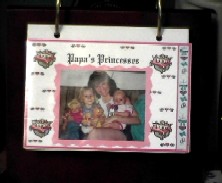 I bought this mini album desk set at Mervyns Department Store for my husband's desk at work. They are also available at Target, Wal-Mart and most of your office supply stores. Any photo album that accepts 4x6" pictures works well. New 60 page set added to our Members Section in February 2004
To see our PrincessCrafts mini-scraps examples - click here
Wall Scrapbooking picture collages are a great gift idea too. I do these as family gifts. I hand scrap on the mats for the larger photos and computer scrap the whole pages for my 8x10 collages. My family loves getting these pictures. They don't have to settle on just one pose. They get to have all the poses in each collage. The top 3 pictures are using my designs from this website. They are actual PrincessCrafts papers that I inserted photos into and printed on glossy photo pages. I have made many photo collage pages available as .pdf files for hand scrapping and as .gif files (with transparent frame openings) for computer scrapping. So now you have a choice for all your scrapping needs.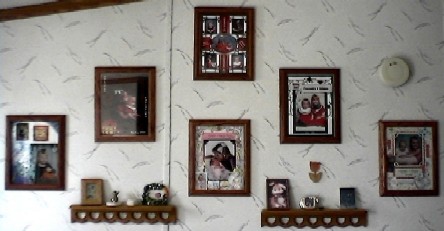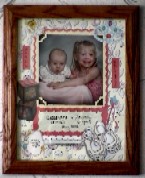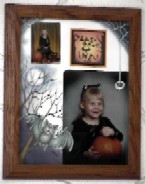 For more wall scrapping examples click here
Now available for purchase, Scrapbook Photo Gift Tags. Print on cardstock, cut out, insert picture, fold and seal for a wonderful personalized gift tag for that special person on your list. Each set comes with 4 tags and complete illustrated instructions.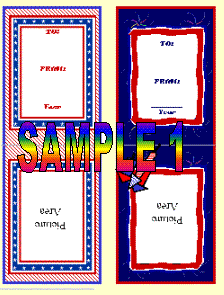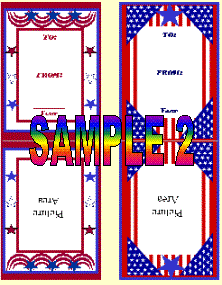 For all our Gift Tags click here
PrincessCrafts.com is proud to offer you access to our free calendar pages. These pages come in Microsoft PowerPoint (Template) format, PDF versions for those who just wish to print them and in a .GIF format for those of you that wish to use them in other applications (Computer Scrapbooks, Gift Calendars, etc.) or customize them to make your own gift calendars. Get them HERE!
Drawshop.com - Interview with the designer